Vehicle Data Expert: Woman Arrested When Car Turns Her in For Hit-A...
by Scott Greene
New cars owners are generally aware of services such as GM's OnStar and Ford's Sync. These technologies not only allow you to start your car with your smartphone, but also to assist you when you are involved in a crash. Most of the time (if the service is active) when a sensor is activated, the car connects you to emergency services over the speakerphone so you can get help.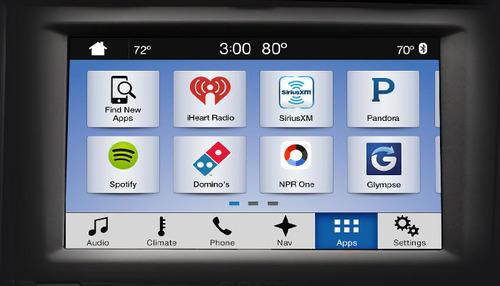 Car Infotainment System Screen
A woman's car called 911 after she hit two vehicles and left both scenes.
In this case, the driver, Ms. Bernstein, was driving her Ford equipped with Snyc in Florida. At some point while she was driving, the crash sensors on her car were activated and an emergency Dispatcher called Bernstein in her car. Bernstein told the Dispatcher that there wasn't a problem, but the Dispatcher then said "OK. But your car called in saying you'd been involved in an accident. It doesn't do that for no reason. Did you leave the scene of an accident?" Bernstein denied and went about her merry way.
Later, police were sent to her home and found the vehicle with significant body damage, airbags deployed, and two colors of paint in the scratches that were later connected to two separate hit-and-run incidents earlier in the day. Bernstein was arrested and charged with two counts of leaving the scene of an accident.
It is unclear at this point if Bernstein was under the influence or not. However, it goes to show that your car is paying attention, and won't hesitate to call for help if it thinks you need it. Obviously something happened with this incident and the driver and victims are lucky there were no injuries. But this incident showcases how technology that is designed to protect you in a crash, could also help to solve hit and run cases in a matter of minutes rather than never being solved at all. The European Union has mandated this technology for all new cars by 2018, it would not be surprising if the United States were to follow suit.
Contact us!
We are experts in Digital Forensics and Vehicular Data. Call us today for a FREE consultation: 866-795-7166
By Scott Greene
Evidence Solutions, Inc.
Complex Electronic Evidence in PLAIN English.
Call us today with your Car Evidence Questions: 866-795-7166 or Sales@EvidenceSolutions.com